Situated in a busy and convenient locality for easy commuting it caters to all the sections of the society. The school building is very spacious with well ventilated classrooms, sprawling basket ball court, play grounds and child friendly, safe play area for the tiny tots. A fully equipped library with books, journals, CD's & DVD's, digital classrooms with smart boards, multi sports room, most advanced language labs, science labs, math labs and computer labs. There are two audio visual rooms which buzz with different activities throughout the year.
Each classroom is designed for various sports facilities and the  school campus is provided with CCTV  camera around the campus for safety and security. Exceptionally trained and empathetic faculty nurture the dreams of the children and help them to scale the heights of glory through hardwork and dedication. We offer an academic sporting and co-curricular programme.
CLASS ROOMS
Class rooms are equipped with technology based, interactive teaching learning material. Hence our classrooms are designed to be spacious and well ventilated with ergonomically designed for easier seating and not to impact the physical comfort. VSSIPS has given a top priority for E-learning. Smart class Boards have been installed in every class room. Teacher can log on to resource centre and access audio visual aids to enhance the classroom teaching experience.
MATHS LAB
Kinesthetic learning experience the joy of learning the nuances of Math. A modern well equipped Junior and Senior Mathlab is set up to bring a completely new mathematics learning experience. It enables students to learn very interestingly and explore mathematical concepts and verify mathematical facts. Theorems, using technology tools in an innovative and interesting way.
LABS
Great invention letting your imagination when one tunes in into nature frequency, life becomes change, change becomes hope. Laboratory is the first step for a child to see his or her ideas turn to reality. It provides student an integrated study of the subject. The laboratory stands unique both in terms of designing as well as facility. These independent lab cater to the three branches of science and provide good scope to students to learn by doing and enhance their spirit of enquiry.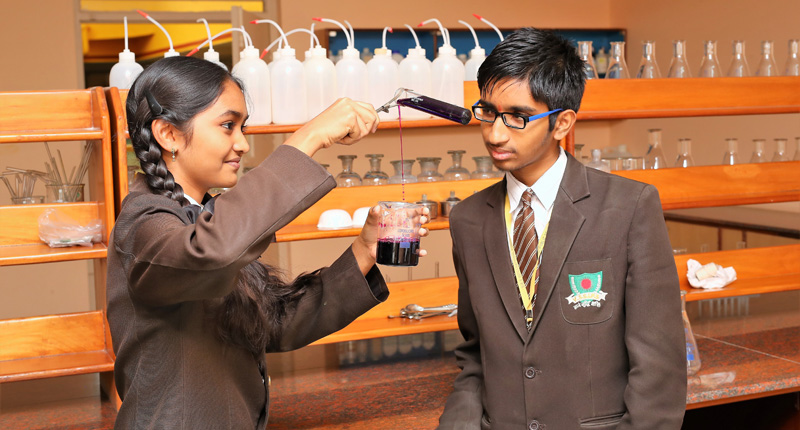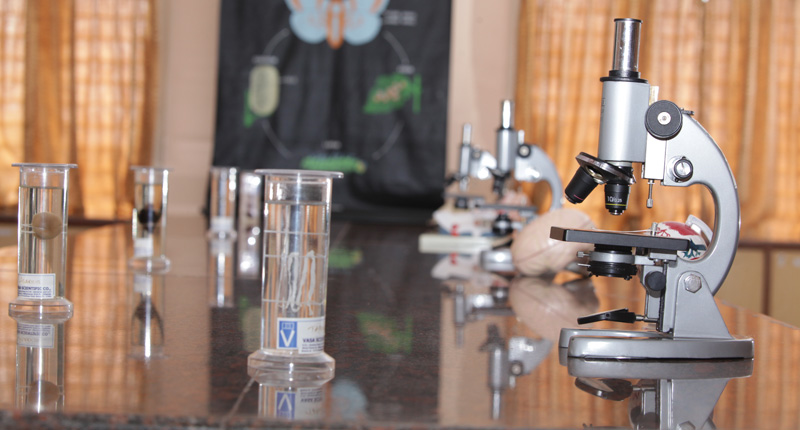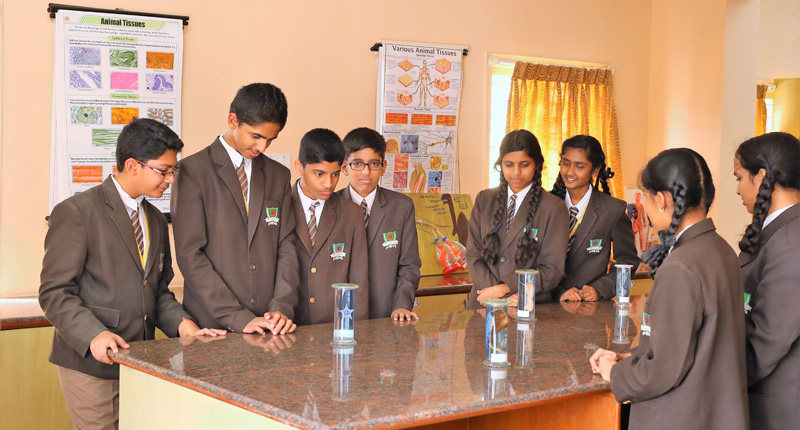 A Spacious well ventilated technology supported library, Huge resource pool of fiction, Non-fiction, reference books, encyclopedia's, Diaries, Magazines and Journals.
Expert Librarians and teachers to supervise and guide each student in section and use of books and other reading materials forthe building of taste at appropriate level of maturity.
Constant upgradation of resource including both printed as well as audio visual materials to provide the latest information to our students.
To further encourage the reading habits in our children we have instituted an avid reader award for the most well-read student (Best library reader award).
Organizing library activity – Theme weeks, Historical database, Read Aloud, Present a book Review, Story time, News & Views, G.K. Hunt, Quiz time, Head line Grabber.
AUDITORIUM
Audio – Visual Delights – programmes–competition – celebrations.
To make class room teaching more effective and interesting separate Audio Visual Room has been set up with a side projector and an overhead projector for pre-primary and for Std. 1 to 10. Slide presentations, lectures, demonstrations, seminars and group discussions take place effectively in the audio-visual room. Latest strategies and methods in teaching such as 'Team Teaching, Brain Storming sessions etc. are conducted to make the process of teaching and learning effective and interesting.
ART & CARFT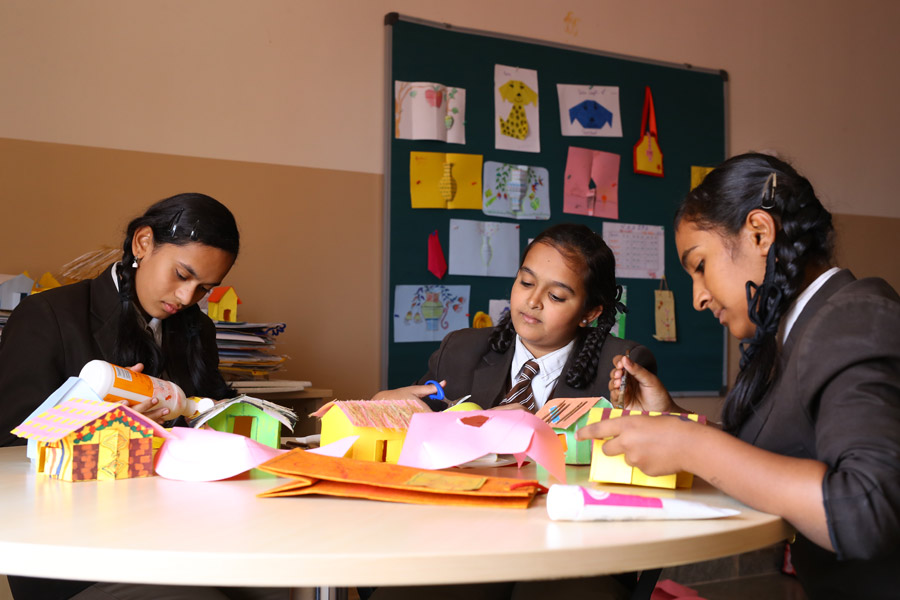 Artistic manifestation at its best.
Children are encouraged to express themselves, using different mediums like pencil shading, plastic crayons, colour pencils, oil pastels, water colours, poster colours and Paper works like origami, Stencils cut, Charts and art sheets which decorate the walls, notice board, thought board are a testimony of the intense yet pleasurable learning that takes place within the art room.
PLAY AREA
Our kids park with a difference is set in the most serene and spacious environment with the most modern play equipments, specially designed to fulfill the needs of our children in the modern age. Kids are expected to learn while they play. A scientifically prepared environment is made available, which is capable of satisfying their curiosity and charmed sense of wonder. Every child is given an opportunity to develop psychomotor, neuromuscular, emotional and mental abilities.
Sports and Physical Education
Games and sports play an integral part in the physical, mental and psychological growth of the children. Keeping this in mind, there is a provision for a large playground with modern play equipment's, which gives children a wide scope for physical development. The institution encourages active sporting talents amongst its students and has in campus facilities for Throw ball, Volley ball, Basket ball, Kabaddi, Table tennis, Cricket, Chess and Carrom.
A variety of outdoor and indoor sports with a age appropriate games are offered at the school. The school is richly associated with fun and frolic games like – Ball dripping, Hop & Jump, Crazy frogs, Parachute play, Alphabet games, Fitness circle, Body movements etc. Various sports activities are included for Under 12 and Under 14 games like- Basketball, Throw ball, Kabaddi, Volley Ball, Kho-Kho, Hand ball, Hockey, Athletics, with Mass P.E. etc.
TRAFFIC ZONE
To create awareness among children regarding traffic rules and safety commuting.
TRANSPORT
School is operating its own Fleet of buses for transporting student to and fro from the fixed routes.

FEATURES:
All school buses plying to V.S.S. are controlled under GPS tracking and CCTV monitoring.
Our buses are equipped with First aid kit and Fire extinguisher.
It will be point to pick up/ drop system .
High maintenance of vehicle due to exorbitant increase in cost of spare parts, lubricants electrical suppliers,tyres etc.
Insurance premium increased by 50% and also increase in road tax.
We ensure individual seating for all students .
Well experienced drivers and well trained lady attenders in every bus.
Parents can contact our transport coordinator –contact: 9901543388.